BERNINA x Applelulu Crafts: Ribon リボン Cosmetic Pouch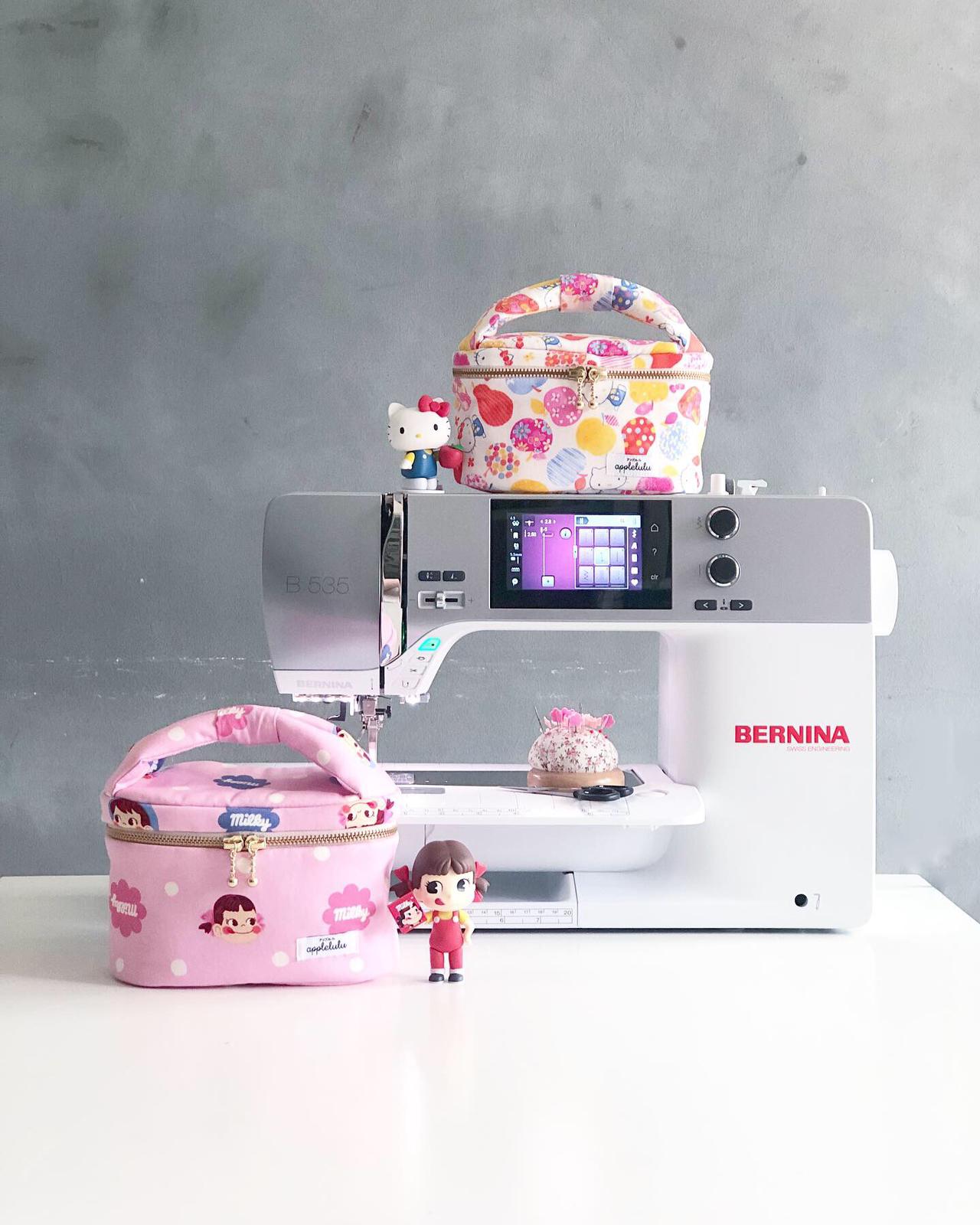 BERNINA x Applelulu Crafts: Ribon リボン Cosmetic Pouch
*Sign-ups close on 16th July*

Overview
Join us for our first Ribon リボン Cosmetic Pouch workshop held in collaboration with BERNINA Singapore! Get to experience the BERNINA difference and at the same time, learn to make your own cute, cosmetic pouch. You can choose to make the petite or normal size version. We also offer a selection of Japanese fabrics for choosing—matched with 5 zip colour options.

Level
Intermediate
*This workshop is suitable for sewists that can operate a sewing machine independently, and have sewn simple bags or pouches before. We'll work with thick materials and more complex sewing and crafting techniques, so it is not suitable for complete beginners.
Size
There're 2 sizes to choose from: normal or petite (only shorter in height).
Normal Approx Size: 17.5cmW x 9.5cmD x 11.5cmH (including handle 17.5cmH)
Petite Approx Size: 17.5cmW x 9.5cmD x 10cmH (including handle 16cmH)
Inner Pockets:
- Back Slip Pocket Approx Size: 7.5cmW x 6cmH
- Front Slip Pocket Approx Size: 9cmW x 6cmH
Materials: Cotton canvas, fusible batting and double head gold metal zipper

*You will be prompted to choose your preferred size and fabric after you press "Purchase".

What will you learn
- To operate the Bernina sewing machines
- Ironing on of fusible batting
- Making of a cute, ribbon pouch handle
- Sewing with metal teeth zippers
- The importance of basting stitches
- Sewing a vanity pouch with lining
- Navigating curves with snips
- Making and sewing bias binding on seam allowances
- Reducing and managing bulk when sewing through thick materials
- No hand sewing is required

Instructor:
Jasmine, Applelulu Crafts

Date and Time:
19th July, Friday
10am-4pm (6 Hours + Lunch Break)

Venue:
BERNINA Concept Store
38 Jalan Pemimpin, #08-03
Singapore 577178

Please take note:
* All materials will be provided.
** Minimum 3 participants to start the workshop. Workshop fee will be refunded if the minimum is not met.
sold out